Most of us desire to have that beautiful healthy skin glow, but what we often don't realize is that healthy skin starts on the inside. So often we get caught up in the latest products and skincare discoveries to help us fight wrinkles, acne, dry skin, eczema etc., but forget that we need to mind what we put into our bodies as well! Today I'm going to outline 10 of the best foods that improve skin complexion and are essential to giving you a healthy radiant glow!
The Best Foods For Your Skin
Spinach.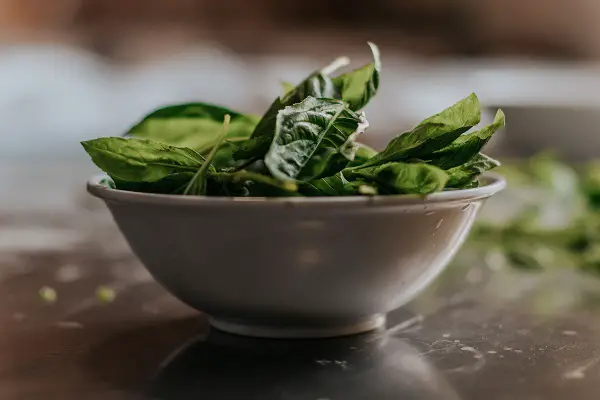 This is a superfood that is loaded with so many vitamins and minerals! There are numerous health benefits to eating spinach such as diabetes management, increasing your iron levels and cancer prevention.
That's not all though! Spinach is one of the best foods for skin and will help can help reduce dark circles. Spinach has vitamin K in it which helps reduce inflammation and improve circulation which in turn can help reduce undereye circles.
Spinach is also loaded with iron which means if you are even borderline anemic this is going to help you tremendously. If you're not , it's still going to help give you that glow because iron has a protein in it that helps transport oxygen throughout your body which will therefore help give you that rosy glow.
Another added benefit is that Spinach will help promote healthy hair! The vitamins in it produce oils in the scalp which can then increase hair growth and keep it moisturized!
So it's a win-win all around.
Recent Post: How To Look Healthy
Blueberries.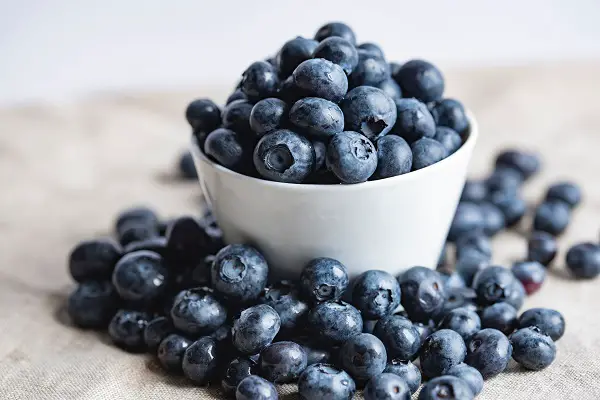 Blueberries are loaded with antioxidants!! The antioxidants will help protect the body from inflammation and will keep your skin looking younger. Antioxidants may also prevent cell damage which means that it will not only keep you looking more youthful , but it will help your skins overall appearance.
I add a 1/2 cup of blueberries to make protein shakes everyday or I will add blueberries to my salad.
Sweet Potatoes.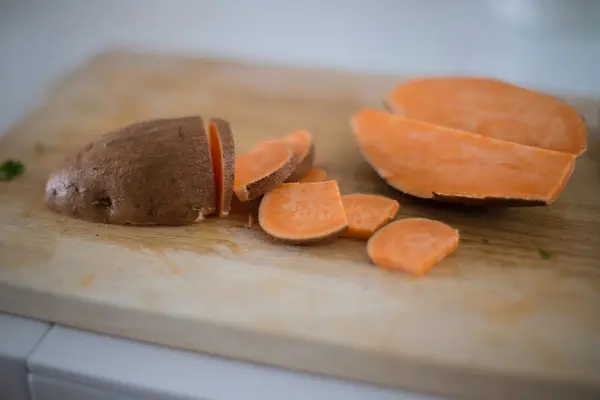 These are another weekly dinner staple in our home. So many health benefits of sweet potatoes! Years ago I switched from white potatoes to sweet potatoes as they are an excellent source of Vitamin A.
As you may already know, if you are deficient in Vitamin A you will have dull dry skin. Vitamin A is a powerful antioxidant which helps protect cells from sun damage and aging. Topical Vitamin A is know as retinol, which most of us are familiar with for fighting wrinkles. So now we can fight the wrinkles from the inside as well as the outside:)
My favorite way to make sweet potatoes is to peel them and chop them into cubes. Then I coat them with olive oil and a little paprika and bake them for a half hour to 45 minutes at 400 degrees. You can't mess these up! Super simple and healthy!
I also like to sneak them into my snack muffins. See my post about healthy muffins and try the sweet potato muffins!
Walnuts.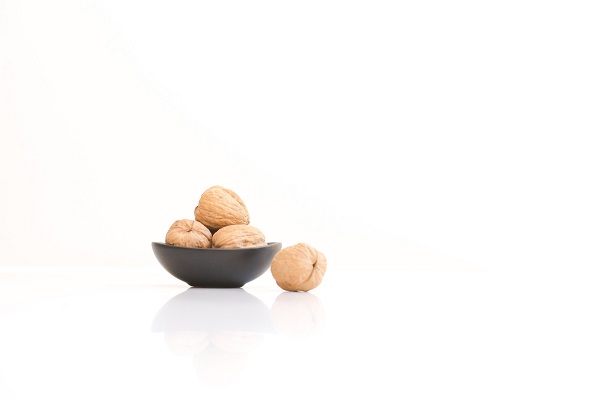 This is another one of the ultimate superfoods that is loaded with Omega's 3's. A healthy fat that will provide nourishment to your skin by locking in moisture and making your skin look supple. It will also reduce inflammation which means less breakouts! Walnuts will keep your skin glowing and will help keep away the toxins.
Add walnuts to your yogurt or throw them into any salad. You can also chop them up and add them to your chicken salad or make your own trail mix with them.
Keep in mind that walnuts are high in calories so you don't want to overdo it! Just a handful a day is the perfect portion.
Salmon.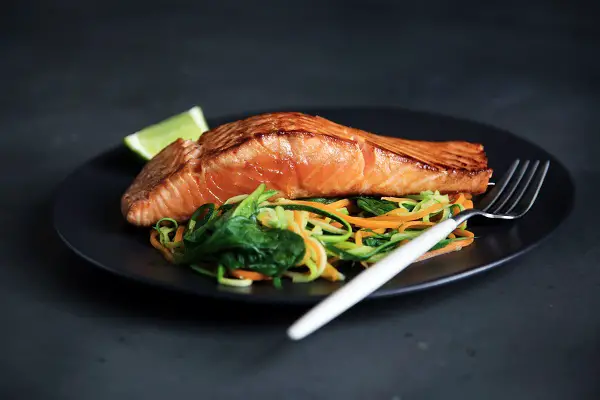 Salmon is loaded with protein and Omega 3's. This is an excellent food to have on your dinner rotation weekly if you're able to. The Omega 3's will reduce inflammation and fight the signs of aging. It's going to improve your skin's overall texture and help give you that healthy glow. Salmon is definitely one of the best foods for your skin!
Tomatoes.
Tomatoes contain lycophene which increases the skin's sun protection and minimizes any damage from the sun. It also boost collagen production which is what keeps your skin firm and youthful!
Avocados.
Avocados are super healthy for you! Don't be deceived when you hear they are high in fat. They are high in good fats, just like walnuts. This is the kind of fat you want in your diet . Once again, don't overdo it, but try to get avocado in your weekly meal plans or snacks.
The good fat they contain will keep your skin supple and well moisturized. It will give your skin the healthy oil it needs to maintain it's elasticity.
I put avocado in my protein shakes, spread it on a piece of whole grain bread, put it in my salad, on top of a chicken sandwich or I just eat it plain!
Chia Seeds.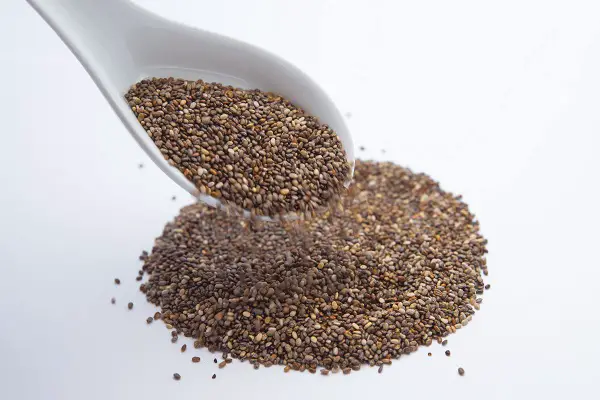 These seeds can work wonders for your skin. Omega 3 Fats are also found in the chia seed. If you can believe it they pack more Omega's than salmon! This little seed is a powerhouse. It has Vitamin E which is know for fighting wrinkles and inflammation. It will also help with premature aging of the skin because of all it's antioxidant properties.
Add chia seeds to your smoothies and protein shakes or sprinkle on top of your salad.
Mushrooms.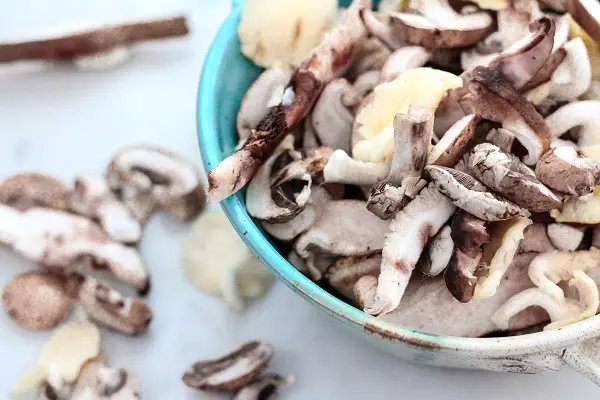 I was surprised to find that mushrooms have skin benefits. I knew that they were good for us health wise, but had no idea that they were one of the foods that improve skin complexion.
Due to their antioxidant and anti-inflammatory properties, they help fight skin irritations and inflammation. Lots of skincare companies are now starting to add mushrooms to their skincare lines.
So these are another must in our diet not only for health reasons, but if we want to have healthy skin.
I saute mushrooms with a little olive oil and sometimes sprinkle a little garlic powder on them. I have them as a side dish and they are always a hit with the family. You can also eat them raw on top of salad.
Water.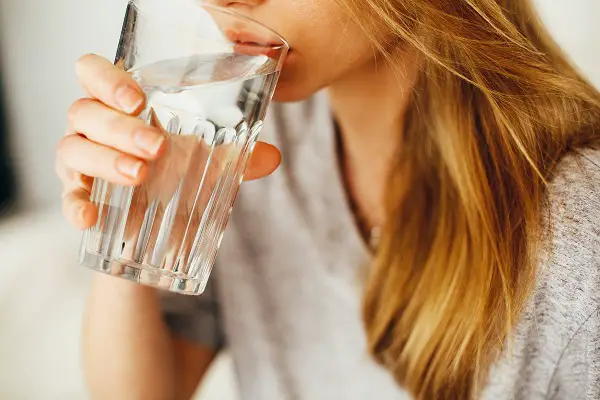 Alright, so technically not a food, but soooooo important if you want healthy glowing skin. If we are dehydrated and not drinking enough water it's going to show in our skin. We're going to look dull and lifeless. Water plumps the skin and keeps it hydrated which is going to give you that healthy complexion we all desire. Water doesn't eliminate wrinkles, but because it plumps the skin it will make then less visible.
Drink water throughout the day every day. Aim for 8 glasses of water to stay hydrated and get the full benefits for your skin. If you stop drinking the water regularly, the plumping effect will stop as well so drink up!
Recent Post: DO THESE PROVEN THINGS TO NOT LOOK TIRED IN THE MORNING EVEN THOUGH YOU ARE
The Best Foods That Improve Skin Complexion
Salmon
Tomatoes
Mushrooms
Spinach
Walnuts
Chia Seeds
Blueberries
Sweet Potatoes
Water
Avocado
If we don't eat right and give our body the right nutrients then we aren't going to get the ultimate glow that we want.
Eating the right foods that offer skin boosting elements in combination with a good skincare routine will improve your skin and help you look your best!
There are more things you can do in addition to eating right. One of my most popular posts, HOW TO LOOK HEALTHY , outlines general things you can do to give yourself an overall healthy look.
Let me know if you have any other food that you incorporate into your diet that has given you great results! I'd love to hear about it!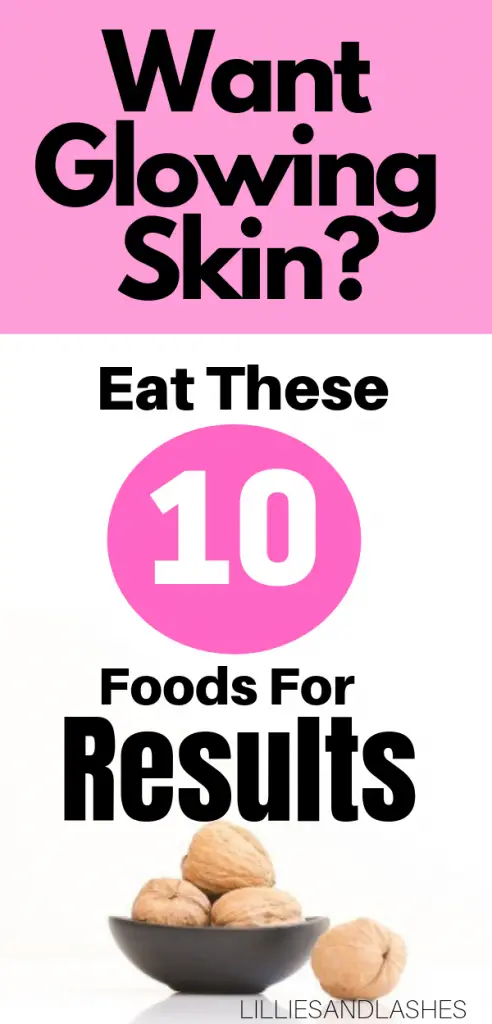 Sources. American Acadamey of Dermatology, DermStore,Women's Health and Science Direct